The Reader Appreciation Award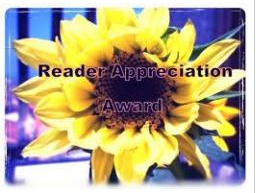 I am honoured & humbled that
Lynn Dove
, nominated me to receive The Reader Appreciation Award.
Thank you, Lynn, for nominating The Spur
for this award. There are a few guidelines for accepting this award: 1. Acknowledge the giver of the award and provide a link to his or her blog site. 2. Copy and paste the award to your blog. 3. Pass the award to up to ten bloggers. 4. Notify your selected bloggers that you have nominated them.
Accordingly, I am nominating the following bloggers for The Reader Appreciation Award:
Laura Davis - Learning from the Master
- shares her thoughts on faith
Glynis Belec
- her personal blog about life and cancer
Stephen Berg
- Grow Mercy - insightful thoughts on faith, life and culture
Violet Nesdoly
- Promptings - thoughts on life and aging
Kimberley Payne
- devotional thoughts on life and faith
Janet Sketchley
- Devotional thoughts and book reviews
Karen Toews
- Real Food Matters - health and food info.
Mary Waind
- Beech Croft Tales - backyard musings
Brenda Wood
- Heartfelt devotionals
Bonnie Way
- balancing life as a mother and writer